Jukebox Times is today featuring the stunning JRDS. They have released their new album titled "Endorphins and Nicotine" and comprises of mindblowing tracks like From the Ashes, Burn, I'm Doing Fine, Shoot On A Star, Games, Right Where I'm Supposed to Be and many more riveting tracks like this.
Burn is an exotic track and takes us back on a nostalgic journey. Whereas I'm Doing Fine is surreal with powerful vocals of JRDS shining brilliantly throughout the track. Shoot On A Star reverberates for a long time and is a peppy track. The vocal effects are marvelous on this track. Games is mesmerizing and has an unusual yet impressive arrangement.
Overall, Endorphins and Nicotine is an absorbing, distinct and gripping album. JRDS is a sheer treat to listen to and sounds extremely authentic, and passionate. Rarely, do we come across an album that is not about music but is also about conveying experience. JRDS' Endorphins and Nicotine album does that wonderfully.
About the artist: Living in Hollywood since the start of summer 2018, JRDS began working on captivating a platform through social media and performing at shows such as Santa Monica Pride, The Viper Room, The Globe Theatre, and more all independently, as well as catwalk modelling for The Unapologetic Co. at LA Fashion week 2019.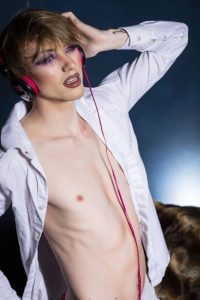 JRDS released 4 Singles in 2019 and 1 EP titled "Ocean Fires" on Valentine's Day 2020 recording the vocals for "Sober" at BeatFreak Recording Studio in Curaçao. Also in 2019, JRDS Publicly came out as non-binary. In 2020, JRDS Released "Shoot on a Star" with Cameron Frittz which placed number 19 on Spotify Hits "Born In The USA" Playlist, as well as gaining over 50,000 streams on Spotify alone. In November 2020, JRDS X ICONIC THE ALCHEMIST released their third collaboration, placing #8 on Nu-Disco Magic on Spotify. In total, JRDS gained 94.6k streams in 2020 on Spotify alone.
Follow the artist for updates about future releases: