Hi Marie! When it comes to performing, what do you prefer, theater or film? And do you prefer acting or directing?
This is a tricky question I have been asked numerous times – I love both theater and film, but they are different mediums to work in. And I prefer acting over directing. It is a profession I have a great passion for and the reason I got into film and theater, but sometimes, if you want to tell stories there is no other way than to work on different aspects of storytelling like directing, producing and scriptwriting as well. 
Where did the acting journey begin for you?
I got my bachelor's degree from Theater and Film at Georgia State University. It was intensive conservatory theater training for actors. And the rest as they say, is history!
Did you always want to be an actor?
Yes, as far as I can remember. Even though I hold another degree in science –that's another long story for next time!
How old were you when you decided to go down this road?
Strangely enough, there is an age limit to be admitted into theater and film university. I think it is wrong to believe that aspiring actors should be young to "mold" them into a skilled professional actor. I was 19 years old and could easily hold a room on my own. These 4 years of training shaped not only my skills as an actor but also my personality because at the core of actors training there is a deep analysis of human nature, empathy to characters and therefore to human beings in general. You are trained to analyze and get into someone else's skin; therefore, you are trained to know people.
Training was mainly based on Georgian and Soviet methods. Studies of Tumanishvili, Stanislavsky, Chekhov, Grotovski. We would spend hours and hours in classrooms and the university stage rehearsing. There was never a specific time limit. At university, we were even allowed after midnight to rehearse.
What did you do after university?
I worked at Liberty Theater for 8 years, it was an amazing experience to learn and grow. Theater was my comfort zone; it was something I knew how to do very well. Working in film seemed a little scary at that point. It's generally believed that theater is much harder to pursue. I knew it was different working in film and working in front of a camera, so I understood I needed to learn new skills in order to work in film and TV.
When did you understand you needed to learn more about TV and film acting?
It got much clearer for me after a couple of appearances on a very popular TV series on Georgian television, Husbands & Wives and In the middle of the City (aka Shua Khalakshi). I did not like myself on screen, more than that, I was terrified of my acting. So, I started analyzing and comparing the 2 mediums. It was a long process, because once you are "trained" as a theater actor from teenage years, reshaping your skills takes time. Especially because there are no specific schools, retraining programs or classes for that type of thing. It is wrongly believed that theater and film acting require the same kind of acting, so if you are talented, you can naturally do both.
The final answers became clearer to me after I worked on the most popular TV series on Georgian television called My Wife's Girlfriends. I watched myself on screen for hours and hours, repeatedly, to learn what worked and what didn't, what I could repeat and what I shouldn't repeat.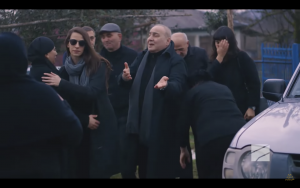 Tell me more about this popular TV series you worked on. I understand the TV show is very well known in Georgia.
Yes, like I said that show is the most popular TV show in Georgia.  It is watched by almost every family; everyone knows the characters and their stories. It is truly the most seen and recognized show in the entire Georgian Television.
So, did you get a specific answer about theater and film acting as a result?
The truth is film and theater acting require extremely different skill sets. When you are up on the stage and the director sits in row number 27, you may often hear him saying "I don't hear it" or "I don't get it". That's why gestures are bigger, voices are louder, emotions are sharper in theater. The character you play should reach not only the audience's ear but also their senses.  Contrary to film, if you are doing extreme close-up shots, even a little twitch on your face, the muscles are seen by the audience, so you should be careful to control even your thoughts.
Another huge difference is the performing process itself. Theater requires a skill to get into your character and hold it for the entire duration of the performance, sometimes 2-3-4 hours.  And there is no possibility of a second shot because the performance is live on stage! If you get out of it, you ruin it in front of everyone.  It is a huge responsibility to the audience and your partners on stage.
In film though, you have as many second shots as the budget of the project allows. You can refine every shot and every scene until you reach the desired outcome. But the downside of it for actors, is the fact that you don't get to go through the entire script at once. It is very fragmented. You are constantly in and out of character. Moreover, some scenes are not even shot in order. You might have to shoot the happiest episode in the character's life straight after some terrible event. So, your brain and body should be used to jumping in time if necessary.
I know this sounds too complicated, that's because it is! That's why I realized I wanted to pursue my master's degree in film.
Did you go ahead and do that?
Yes, I got my master's degree last year. If there was a doctorate maybe I would have gone for it as well ☺
Upon graduating, what did you do?
After graduating I got to do my independent film in the US, I devoted a whole year to it.  I acted as a director and producer as well. It was a huge experience, and I don't regret any of it.  Because if you want to tell stories, you should learn the whole process. It takes every part of you to dedicate your mind, body, and soul to a project.
What are your plans now?
My plans are to continue to work in film and television in the US. I have some projects that I have been invited to work on and if everything works out, I look forward to this new journey. There are also some exciting films and web series that are going to be made in the next couple of years.