With rivaling vocals of sweeter melodies and screams filled with emotion, "I Think Not" catches the listener's attention immediately and gives insight into the expectations that the music industry places on artists of color. Soft vocals with a strong drum beat accompany what feels like an open letter to the music industry about the limits it has tried to place on the success of artists of color. The song then explodes into a striking chorus of harder vocals, music and intention. With a strong vocal and lyrical performance by Ergo, Bria, "I Think Not" makes its message clear.
Through writing her own songs from a young age and pursuing songwriting in college, Ergo, Bria seems to have found her niche in the alternative rock genre. The artist has persevered through pressures she has felt from the music industry and it's way of boxing artists of color into certain genres. Growing up without seeing people of color in alternative music achieve success as easily as others has been discouraging and frustrating for the young artist.
            "I felt pressured to just go the easy route that is R&B and hip hop because that seems to be the category everyone wants to put people of color in," said Bria McCollum.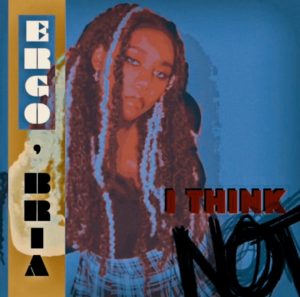 As a woman of color in rock, McCollum is making a name for herself as well as breaking down the barriers that once pressured her. "I Think Not" makes this point as well as showcases the artist's undeniable talents as a musician, vocalist and songwriter. McCollum recorded "I Think Not" in her car and played every instrument along with her drummer for the project, Max Wiltse.
Ergo, Bria, also known as Bria McCollum, is an Atlanta, Georgia, native based in Nashville, Tennessee. In high school, McCollum attended a performing arts school where she was a vocal major. McCollum has continued with songwriting through college where she formed her band in 2019, which has since rebranded to "Ergo, Bria" in 2020. The latest release from Ergo, Bria, "Comfort Zone", was released in March as a preface to "I Think Not" which has grabbed the attention of many.
By gaining traction with each release as well as developing such a unique style, Ergo, Bria is not an alternative rock artist to miss.