PUSLINCH, ON  – Scotland-native Apricity is gearing up to strike fear into the hearts of her fans. The "All My Lies" artist is gearing up to drop her latest single, "The Fear", Friday June 11th!
For those newly cast under Apricity's enchanting spell, be prepared for an audio/visual storybook of epic tales. The powerhouse vocalist showcases her intense vox over fastidiously chosen tracks that embody her spirit, and vision of her musical tenure. Channeling the vocal prowess from the likes of Shirley Manson, and Alanis Morrisette, the indie songstress holds nothing back; pushing the boundaries on art, music, and all that's in between.
Written by Keith Varon, Apricity delivers a haunting to "All My Lies"; an Evanescence-esque highlight to the singer's budding style. Recruiting acclaimed producer Thomas McKay for the track, Apricity says he was integral to determining the strength of the song as a "good fit" for her. "I want to sing songs that move me," she explains. "I wouldn't want to have my name on something I didn't feel, and this song resonated with me on multiple levels," she adds.
The accompanying music video is a reckoning of what we're made privy to in the lyrics of "All My Lies". Apricity's spectacular attention to detail is on full display; having shot on-site at Milton's Country Heritage Park, a location that recreates rural life in the 19th century in Ontario. Scenes for the music video were filmed at The Lucas Family Homestead, a notoriously haunted building built in the 1830s, as well as The Mayne Corners United Church, built in the 1870s and originally located in Perth County, Ontario. Says director Jesse Read (Dropout Entertainment/Toronto Creatives), "It was incredible to have these stunning historic buildings set the backdrop for 'All My Lies'," going on to add: "Between the setting, the costumes, the amazing talent and the fact that we were filming in a legitimately haunted building, it all really tied together to create something incredibly spooky and beautiful at the same time."
The treatment for the video has it all – ghosts, plague doctors, historic buildings, a ballerina and even a pointed cameo by a real-life raven. About the shoot, Apricity says it was "a dream that became reality! I am addicted. I had the pleasure of working with Jesse, Benjamin Gibson & Shannen Frost, who were fun, organized and made it run smoothly even through a few minor hiccups. It was an amazing experience, hard work but it was sure worth it. Words cannot describe." The cast and crew also recall several haunted experiences during shooting that lent to the authenticity of the final cut.
Apricity's perchance for the visual adaptation of music doesn't rest solely with her captivating videos. The singer's socials are rife with staggering spotlights of her artistry, pops of portraits chronicling her creativity.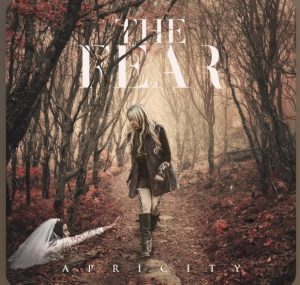 She's also shifted her attention to a new endeavor to add to her repertoire – "The Fear"; a multi-dimensional project that features her vocal talent, a storyline video featuring a graphic novel flair, and, yes, zombies. "After searching far and wide in a post-apocalyptic world Apricity finds her companion Jason, only to discover he is now being used for sport to fight the captured zombies," the plot reveals. "It's my second time working with director Jesse Read," says Apricity, adding, "Along with yet again, local amazing talent it all really tied together to create something eerie that captured the unknown state of the world as we felt it was in with the pandemic." Mini videos and scenic teasers pepper Apricity's social media feeds, leaving her fans salivating for the drop, scheduled for Friday, June 11th.
While we lay in wait for "The Fears" debut on Friday, lose yourself in the majesty of "All My Lies" currently streaming online. Apricity promises to prey on the darkest corners of your mind, revealing your insecurities and curiosities about the afterlife; where "being awake" could mean a state of conscious, a state of dreaming, or simply the state of mourning you've left behind.
Stream "All My Lies" wherever you find music, and save "The Fear" for Friday, June 11th.
The article has been written by Eric Alper.