20 MAY 2023 – Shimeah Beyond releases her newest single titled '8pm in Brooklyn' produced by 1nobuddy.
The Montreal-based R&B artist returns with a laidback, smooth and catchy style, layering in the storytelling of her recent experiences and boss lady attitude. This is Shimeah's second release of the year after her last single "Imposters", released back in January 2023.
Feeling inspired after a trip to New York, Shimeah was ready to take on life from a new perspective. She wrote '8pm in Brooklyn' as a reminder to herself to focus on her goals and not get caught in repetitive cycles that bring the same results.
Moving forward – Shimeah Beyond plans to release a number of projects throughout the year and is a new artist to watch as she shares music that is meant to uplift her listeners and showcase her ambitious personality.
"8pm in Brooklyn" is out now on Spotify and other digital streaming platforms.
Follow Shimeah Beyond on Instagram.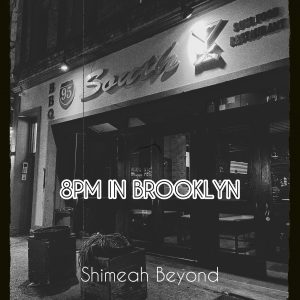 About Shimeah Beyond:

Growing up in a Jamaican household where music was playing as soon as daylight struck until dark, it was inevitable to be gifted with musical inclination. Her 90s R&B vibe is inspired by artists such as Lauryn Hill, Mary J Blige, Aaliyah & T.L.C but also heavily influenced by reggae culture, as she first began singing reggae cover songs. Shimeah has been songwriting and poetry writing from a young age but finally decided to take her career seriously in 2023. She truly believes if it's your calling, it will keep calling. This time she picked it up and is running all the way with it. She refuses to believe the sky's