Frank Dixon, the author of this eye-opening parenting guide on how to raise resilient kids, has created an easy-to-follow strategy for parents, which will help you:
Understand Resilience: Embrace It, Discover The Need for Raising Resilient Kids & The 7 C's of Building Resilience, Perseverance and Self-Confidence for Kids.
Embrace Your Child As An Independent Thinker: Stimulate Creativity, Set Limits & Plant The Seeds For Good Habits.
Be Honest With Yourself: Take Responsibility, Avoid Painful Past Mistakes & Take Matters Into Your Own Hands.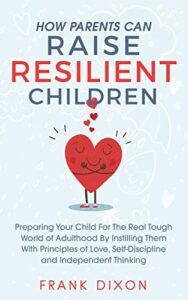 The book is available on Amazon: Order Now