Jukebox Times is today reviewing the new single by Musician and singer Meric Calisan. It is titled "If Only You Believe." The single starts with a smooth piano and subtle vocals by Meric Calisan. And then the single takes us on a stunning journey. The powerful vocals of Meric mesmerize us throughout the single! The lyrics are wonderful whereas the songwriting is superb too. The music production is quite incredible.
Meric Calisan
is enthralling and sounds amazing and evokes deep emotions in the listener in the single
"If Only You Believe."
Overall, the single is brilliant and fans would definitely love this wonderful song.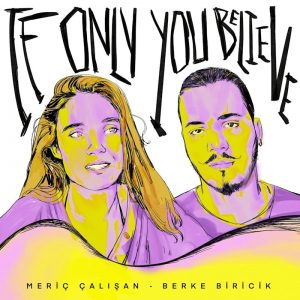 About the artist: Meric Calisan was born in Ankara, 1993. At age 7, she started studying music at SCA Music Foundation. In 2012, Meric enrolled in Hacettepe University Conservatory and majored in jazz vocal. She studied jazz vocal techniques with various artists including Yildiz Ibrahimova, Meltem Ege and Randy Esen. After graduation, she started working at Hacettepe University Conservatory as an instructor. In 2018, she started her master studies in Codarts Rotterdam where she taught by Francien van Tuinen, Bart de Win, Harjo Pasveer, Michalis Cholevas, Tineke Postma, Dr. Dick de Graaf, Jarmo Hoegendijk. Calisan performed in various international festivals and workshops such as the 2014 Kosovo Turkish Jazz Week, 2015 Istanbul Jazz Festival Young Jazz concerts, 2015 Umbria Jazz Workshop at Perugia, Italy, 2016 Pulawy Jazz workshop and 2017 Istanbul Jazz Festival. In 2019, she participated in the North Sea Round Town Festival with her trio as well as with the well-known saxophone player and composer Dick de Graaf's project Jazzdrieluik Hillegersberg Schiebroek. In 2020 March she won the Second Prize in the Codarts Artistic Research Competition where her presentation and performance was mentioned as ''Meric showed how she arrives to find her own voice within the jazz field.
Follow the artist for updates about future releases: