After months of cryptic posts via social media, James Zero has finally let the cat out of the bag by giving us a surprise release with his recent video announcement of what seems to be an upcoming album of songs titled, "Oceans (& Other Bodies of Water)".
The video, which was called, "Oceans | Album Announcement", premiered live at 12pm EST last Tuesday, July 13th, via Zero's YouTube channel.  The video was shot and directed by up-and-coming Pennsylvania-based photographer and videographer, Joshua Blake, as part of J Blake Photography.  It features shots of James Zero walking by a lake surrounded by trees, a piano playing a soft and relaxing tune, fitting the scene eloquently.   After walking along the shore, the camera goes black, as the word "Oceans" is displayed on the screen.  The video was accompanied with a link to James' brand's site, "Anything But Kountry", which was already ready to go with a pre-order for the album.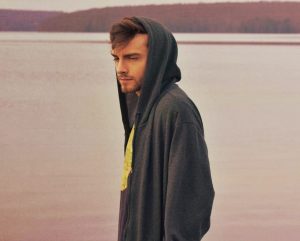 After clicking the link to purchase the album, and seeing the beautiful cover art designed by popular Polish artist Running.files, fans are given an opportunity to preview the 7 songs in the musical compilation.  These 30-second previews have a similar laid-back jazz-blues tone and fidelity, which gives the listener an impression of what they can expect thematically from the album.  We found that Anything But Kountry made purchasing the album incredibly easy and secure with Stripe Payment integration.
We are extremely excited for this album as a sophomore follow-up to James's first release, "hearts:_[online]".  He claims that his new, upcoming album is the 2nd part of a three-album trilogy, hinting that "hearts:_[online]" may have been the first.  At any rate, we have been following Zero for a long time, and can't wait for what's in store for his album rollout this time around – as it's always very interesting to see what James has rolled up his sleeve.
Pre-order the album now at https://www.anythingbutkountry.com/home