'Danger' (his stage name) is the new strain of reggeaton and we were talking with him. Here is the interview:
What made you start his career?
I let myself feel in music through what I live in my life, I sing what I live. Time passed and I realized that I can become better than many artists of the genre.
How long have you been in music?
I have been in music for 3 years, and I want to continue working to continue demonstrating year after year.
How was the experience in music?
I have loved, stand out in music. I will continue to have more artistic adventures.
What topic song is in promotion?
The theme is called "Bichote" available on all my digital platforms
Who was involved in your production?
I compose my music myself, produced by one of the best tracks on ArkeyO.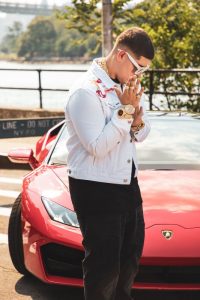 How was the experience?
I feel that I identify my life because it talks about me.
What makes your address to the other exponents?
That I come to stay in the genre and establish my brand, I know that it will never be erased since this is too easy for me as I say.
What do you expect in the future?
Reach out to many international listeners and new fans.
New projects?
This year I come with a lot of versatility, drills, reggaeton and among other genres, plus many collaborations with artists of the urban genre.
Follow the artist on his official social media for updates about future releases: