Hi there!
I'm Scott the Pisces, a young British songwriter and producer from London. I'm super thrilled to share with you the process of writing the lead single to my debut EP "Perfect Summer".
"Perfect Summer" is a song designed to be the anthem for reminiscing your favorite summer memories, and for creating new ones for years to come. For me it was an escape from the 2020 pandemic, reliving the summer we were never able to fully experience. Like creating a wishlist for next summer.
The way I begin any song tends to be with the drums. I have to nail that rhythm section before I even attempt getting the music down. The rhythm section can change everything about a song, the same chord progression to a slow hip hop beat will sound totally different to a fast four to the floor rhythm. In this song I wanted the drums to drive the song forward, maintaining pace throughout and so I went for a four to the floor beat at a modern house music tempo of 126 BPM.
What's the first thing you think of when summer comes around? Going to the beach of course! I stuck a bunch of ocean sounds rhythmically with the drums, as well as gentle waves in the background to create the feel and texture of the summer. Immediately, I decided I wanted guitar to be the main instrument for the song. Every great summer anthem of my childhood and teenage years was driven by guitars. Remember Katy Perry's Teenage Dream? Perfect example of what I mean. I played out a simple chord progression, with what I felt was an indie/ska inspired rhythm.
I believe that the chorus has to be solid before I move onto any other section in the song, otherwise what's the point of a brilliant build up to something anticlimactic? I looped the 8 bars around as I began to add synth layers and a gritty bassline. I quickly decided I wanted my chorus to have an A & B section, which I first heard in Jermaine Stewarts "We Don't Have To Take Our Clothes Off". When a pop song breaks down into a "Na Na Na" moment halfway through, you know it's a hit. The melody for the second half of the chorus was the first section of lyrics I wrote, specifically for the "La La La La La" melody which came to me instantly.
As soon as the chorus was complete, the rest of the song came together fairly easily, and then came the lyrics.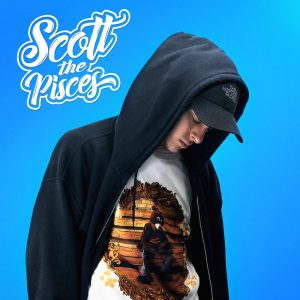 Naturally, I started with the chorus. I had already gotten the B section melody down, it was just time for the actual words. I knew the second half would have to be simple enough to sing out loud, whether it's in the car on a road trip, or at a festival.
"La La La La La
The Perfect Summer
La La La La La
It's getting hotter
La La La La La
I know you wanna
La La La La La
The Perfect Summer"
Simple & effective; the next step was to define the chorus. I must have been listening to a podcast on songwriting and I remember someone saying that you need to establish in simple terms what you want your listener to know. So I told them..
"It's the summer, we're gonna party tonight"
"Like no other, the best time of our lives"
I think that wraps up the chorus, now the verse content. As I mentioned before, I looked at the song as if it was a wishlist for the next summer. I actually created a moodboard with everything that I thought the "Perfect Summer" could consist of. I then selected my favorites which felt universal and I wrote about them. Oh and here's that very moodboard.
A lot of what's written here made it onto the EP in some form or another.
"Blue skies, Summer nights,
Chasing dreams and catching flights
Music up, take a drive
By the sea, VIP,
Drinking smoothies on the beach,
Hear the waves, perfect breeze"
The first verse was my attempt at manifesting the perfect summer, creating the dream scenario I would like to live. It's heavily inspired by my time in Cyprus back in 2019, in which I felt like I had found my own piece of paradise. Lush heat, beautifully blue skies reflecting onto the ocean, cocktails and fresh juice, music and road trips. The sound of crickets you hear in the bridge later on were actually recorded on my phone from one night at the villa.
The second verse was more of a humble version of summer, for all those who live inland and may not be able to visit the coast, or go abroad.
"Barbeque, Perfect view
By the lake, let's rendezvous
Music up, me and you
Hit the street, feel complete
Iyaz – Replay on repeat"
Anyone who grew up through the summer of 2009 knows exactly how much of an impact Iyaz – Replay had. Any time I listen back to that song, or anything by Sean Kingston I'm instantly transported to being young and free again. Who doesn't love a BBQ, or visiting a lake during the summer?
For me personally, 2020 showed me exactly how precious a summer can be and I really wanted to express that in the pre-chorus.
"This is the summer of love,
Moving so fast
And it only comes once
So lets make this last
When the summer time calls
Better make it a blast
Cause you only live once
So forget your plans"
The truth is, summer only comes around once a year and it always manages to fly by. So when the summer time calls you better make it a blast, enjoy it while it lasts.
"When the sun goes down, and the stars come out
Will you remember what it's all about?
When the moon is high, and the sparks they fly
Will you remember what it's all about?"
The bridge after the second chorus is where things drop down, I like to think of it as resembling the last few weeks of summer, when you realise that it's almost all over. Those times where you stay up late with your friends around a campfire, singing and talking about how our summer went, before finally living it up and having one last blow out party to close off a perfect summer. In the final pre-chorus I decided to use a telephone filter effect on my vocals similar to the one in "Video Killed The Radio Star" by The Buggles to act as if the summer is really calling you one last time.
Once I had finished writing, it was time to get someone who could really sing to rerecord it for me. I hit up Aleesia and she absolutely smashed it! I didn't expect her to reply as prior to this, she had worked with really big names including Martin Garrix and Big Sean. She let me know she loved it and we made it happen.
Perfect Summer is out now as part of my debut EP "Ocean Blue".

All my Social links are @scottthepisces