Jukebox Times is today featuring the new single by artist 3Mind Blight. It is titled Silenced By The Sound and is a stunning single altogether. The enthralling aspect of the single lies in its distinct storytelling and sublime composition. The intro coaxes us and takes us on a unique musical journey. It definitely seems 3Mind Blight is trying to achieve a different sound in comparison to what he accomplished in his other notable songs such as Reflections and Breaking Down.
Silenced By The Sound evokes nostalgia or probably a plea but that "beautiful feeling" reverberates for a long time in the listener's mind. In reality, Silenced By The Sound is an enigma in itself and unparalleled. Truthful, soul-touching, genre-blending and exquisite, Silenced By The Sound will captivate your heart and drench you with that rawness and boldness of the voice that the artist has utilized in the song. Also, notice the dreamy effect in the vocals at the end of the song. In reality, it is an ideal completion to this wonderful story that the artist has shared in the song!  
Jukebox Times highly recommends Silenced By The Sound.
The single is currently streaming on all major music streaming services.
Stream the single here: songwhip.com/3mindblight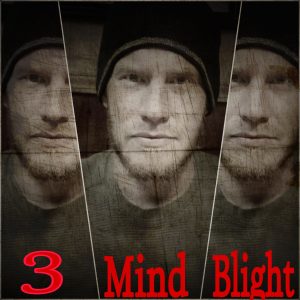 About the artist: Hailing from Tulsa, Oklahoma. After 15 years of experience as a music producer, 3Mind Blight embarked on a solo career in 2018. 3Mind Blight is an international award-winning artist, musician, producer and songwriter in Metal, Rock, Orchestral, Hip-Hop, Rap, Pop, and Acoustic Singer-Songwriter. Stylistically the genres change according to mood and often times several genres are blended.
For more details follow the artist on official social media: