D'marie is an independent R&B artist from Dallas; she was born in Chicago, IL and moved to Dallas to attend college but quickly realized that wasn't the path she wanted to take. Her life became a huge challenge with figuring out her career path, that was until she found music again.
D'marie began to sing for fun until people started to hear and urged her to take it further insinuating she would make it big. D'marie began singing music at 5, she'd always had big dreams and auditioned for shows like American Idol and America's Got Talent. D'marie stated nothing necessarily inspired her to make music, it's just always been a part of her. D'marie wants to prove that with hard work and dedication dreams do come true. She wants her fans to know that you can do whatever you want no matter who doesn't like it.
D'marie is constantly working in the studio. Her biggest accomplishment is her new single "LIT" which hit 20k views on YouTube in just 10 days. D'marie looks forward to working with artists like Eminem and others.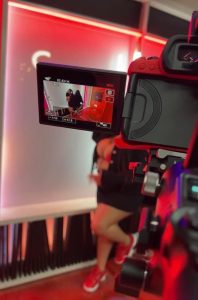 She stated she has a new track coming out but no date has been set she just quotes "it's the big one". D'marie wants her audience to know she is just trying to achieve her goals to be of help to others. She wants people to know you don't have to be a huge artist to make good music.
You can follow this rising star on Instagram, you don't want to miss this.