Kasia's music journey is above all, a love story for music and a desire to highlight the role of women in the music industry.
Indeed, the vast majority of sound engineers, technicians and producers are men. Not that they're bad, no, that's not it. But women and those not identifying as men also need a place in this artistic universe. And that's what motivated Kasia to begin her music journey in the creation of Zhi Records and her most recent partnership with the Powher Sound label and 9MM Label. But let's get to know Kasia better!
Kasia began her professional music career as the replacement to the lead vocalist in the synthpop band Fan Death Sisters.
"Being brought in to replace the singer for Fan Death was really my first taste of the music industry on the professional side. This is when I saw first-hand how it works behind the scenes in the studio. I wanted to do more than just sing but sadly I was shut out by one of the lead producers and told that I did not have the attention span to produce by the main producer. It took me a few years to build up enough courage to take on that role."
When Kasia's model career took off music took a backburner.
"I started flying around for work a lot but kept writing and recording in the model houses I was living at. While I was modeling in Miami I was working on some vocal work with other producers but my experience wasn't much better than my first. I had one producer try to get me to sign a contract stating he 'owned my name' and wanted half of anything musical I did in the future – this was after I paid him to produce a few tracks for me. I walked out and stopped recording for a minute."
A few years later Kasia launched her clothing line KASI BAMBOO while studying pre-law at UBC.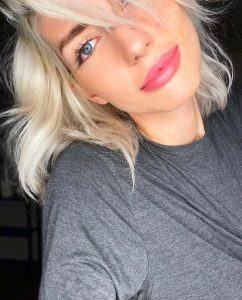 "I put music on the backburner and focused on other, more "traditional" things but I always felt like something was missing. The thought of working at a law office for the rest of my life was starting to stress me out. When the pandemic hit, I really took a look at my life and revaluated everything. I woke up one morning and heard Mac Miller on the radio after his passing. I had this inner dialogue with myself, like, if you really want to do this (music), you have to do it now. Music has always been my first love. So that afternoon I bought Ableton and just dove in."
Kasia began producing independently and soon after was contacted by Jade at Powher Sound. Jade started her career in music very young in a time when, she was only surrounded by men. Kasia and Jade's alignment in what they thought the role of women also had a role to play in the journey of musical creation. Rapper and producer of French origin, Jade is the initiator and owner of the 100% female label Powher Sound.
Kasia has since launched her independent label Zhi Records, signed multiple tracks to 9MM Label Spain and is one of the producers of  Powher Sound. Kasia's remix for Queens will be released next month.
Discover here, its title and piece in preview: Queens
Kasia's music journey has aligned with others with similar goals. There is a barrier to entry that a lot of women and other people feel who are not part of the "boys club". Kasia's music journey is not intended to replace or to be better than, but to get a seat at the table. Not only are women and those not identifying as men also capable of managing artists, producing music and ultimately making things happen but we deserve to be here just as much.
With Powher sound, it's about putting all people on an equal footing and saying that the music industry is as much feminine as it is masculine…
The music industry is still dominated by men.
The figures are clear: nearly 92% of musical productions are directed and controlled by men! And, not so long ago, if you watched a film or listened to an album, you didn't wonder how many women had worked on this work.
The fact that the female gender is slowly making its way into working environments that were previously almost totally foreign to it means that what was taken for granted, namely that certain professions were the prerogative of men, is no longer taken for granted!
Women are teachers, secretaries, housewives and men are entrepreneurs, politicians, managers. In the world of the music industry, as in many other circles, this labeling of issues determining who does what has always been particularly marked, precisely delimiting the spaces that a woman (and a man) could occupy.
Today, things are changing and with Powher Sound, women find part of their way (or their voice) and reminds us that culture has no gender!
https://www.instagram.com/kasiasmusic_/
https://www.instagram.com/kasi.k/