Jukebox Times got a chance to interview Dr. Zenovia Bryant-Bright in regard to her book Spiritual Awakening. We got insights into her book, her daily mantra to stay creative and much more!
Q. Welcome to Jukebox Times! How are you doing?
Dr. Zenovia Bryant-Bright: I'm doing great, thank you.
Q. Your book Spiritual Awakening is now available on Amazon. Please tell us about your wonderful book!
Dr. Zenovia Bryant-Bright: Spiritual Awakening is currently available on Amazon. It is available on KDP eBook, paperback, and hardback copies. Spiritual Awakening is the first book that I self-published after publishing my first scholarly dissertation. I was fresh out of graduating from a doctorate program. After writing about business problems because my doctorate is a degree in business administration with an emphasis on strategy and innovation. I completed my dissertation and decided to start writing books while it was still fresh on my mind. At the time, I was working on my first book, which was a children's book. The Amazing Adventures of Queenie is a Nonfiction story about my dog's life. I wanted my second independently published book to be about who I am and what's important to me. I've always been a very spiritual and religious person. About five years ago, I decided to embark on a spiritual journey. I started a spiritual awakening journey learning about meditation, yoga, crystals, and how God and the universe tie into the spirit world. Spiritual Awakening is the birth of the journey I am working on for the rest of my life. The information and knowledge I gained during the journey inspired me to write the book.
Spiritual Awakening informs its readers what a spiritual awakening is and how to engage in the spiritual realm, acknowledge your spiritual realities, and make use of them. It also informs readers on how to embark on the journey to discover your life's passion and mission. A spiritual journey, in general, refers to the process of a person embarking on a quest to increase their knowledge, insight, and wisdom about themselves, the world, and God. In addition, the phrase can refer to someone attempting to live an intentional and mindful lifestyle to receive various benefits.
Ever since I was a little girl, growing up in the country in East Texas. I always believed that God is why I exist, and he navigates my life. God blessed me with the gift to read and write, so I decided to use my facility to write books. I think it's essential to get the word out to other people and create self Help books so others can start their spiritual journey.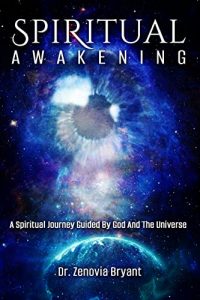 Ray Bradbury says, "You don't have to burn books to destroy a culture. Just get people to stop reading them".
I was born and raised in a family where most family members graduated from college. I was raised in a household with hundreds of books; it was like a library. Books have helped me along the way and provided information and knowledge about the things of the world, spirituality, and religion. But it also allowed me to explore other worlds and places that I've never seen in my life. Places that I only have ever dreamed of as a child growing up. Since books are so important to me, I decided I had to write books before I graduated with my doctorate. I planned to write as many books as possible. I have a goal to write and publish 25 books or more in the next five years, and I will have 25 books completed. I will have plenty of books to work on for the rest of my life. I plan to continue the legacy passed on to me by my ancestors and family. To continue to promote reading, writing, education, inspire and motivate others. And to pass on writing books to the future generations of my family.
Q. Do you have a daily writing mantra that you follow to stay creative?
Dr. Zenovia Bryant-Bright: For my daily writing mantra, I use meditation and yoga to relieve stress, relax and focus. I keep a clear mind and remove all negative energy and influences. Meditation aids in the relaxation of the mind and reduces many adverse effects on behavior. The use of the two helps my mind be clear so I can write for hours.
Q. Kindly share some tips on the health benefits of Spiritual Meditation.
Dr. Zenovia Bryant-Bright: During the initial research for my book (Spiritual Journey), I found a list of tips in a 2020 study on spiritual meditation that revealed the health benefits of spiritual meditation that could be an effective supplemental treatment for various diseases. The list includes depression, anxiety, stress, and pain control, to name a few. As I mentioned in my daily writing mantra, meditation helps you relieve stress, relax and focus. Meditation aids in the relaxation of the mind, body, and soul and helps reduce many adverse health effects.
Q. What's next? Which book or project are you working on now?
Dr. Zenovia Bryant-Bright: I am currently working on another spirituality book about Spiritual Warfare. The experience of the research and writing of the book has been great so far. It has been a fascinating project; I have enjoyed the research and learning more about Theology, the invisible War, Spiritual encounters, how to protect yourself if attacked spiritually, having victory in Spiritual Warfare and protecting the spirit in war times, and so much more.
Q. Finally, as we ask all our guests on Jukebox Times, do you have any closing thoughts that you would like to share with the world and our readers?
Dr. Zenovia Bryant-Bright: For my closing thoughts I would like to quote Thomas Edison. "Many of life's failures are people who did not realize how close they were to success when they gave up." – Thomas Alva Edison.
About the author: Dr. Zenovia Bryant-Bright DBA, MBA, BA is a Business Strategy & Innovation Expert, Business Analyst, Business Consultant, Published Book Author, Adviser, Mentor, Coach, Scholarly Writer, Real estate investor, Philanthropist, Motivational speaker, Social media content creator, Singer, Rapper, Songwriter & 100% Service-Connected US Army Veteran.
For more details visit: www.bryantbright.com/about