Up and coming alternative artist FRANKIE FLOWERS has just released a brand new cover of the Smith's "There Is A Light That Never Goes Out", and this could be her big break into mainstream alternative music.
FRANKIE FLOWERS is a singer from Ontario, Canada, and released her first single "Psychedelic Sunshine" in 2020. Despite being a relatively new artist, FRANKIE has worked hard to write, release and record music, and has even began production on her first music video for the song "KISS ME LIKE THE WORLD IS ENDING".
When speaking to FRANKIE about the song, she said: "I've always been super influenced by post-punk and 80's new wave, particularly bands like The Smiths, The Cure & Joy Division, which are usually the basis of my inspiration". Despite this, FRANKIE FLOWERS always likes to keep fans on their toes, by thinking outside of the box in order to add a unique twist to the songs she creates, which she does by drawing in aspects from mainstream pop and punk music. FRANKIE states "Ultimately, I just want to maintain an original sound, and I really don't care about sticking to a genre, the 'FRANKIE FLOWERS' sound is ultimately just whatever I feel like making at the time."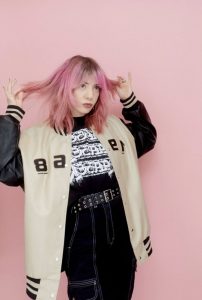 In terms of musical direction, FRANKIE FLOWERS brings the original song, released by The Smiths in 1986, into 2021. The melodies and lyrics are very similar to the original, however Frankie makes it her own by adding an 80's psychedelic feel to the track by using warped synth patterns, and a drum machine, which makes for a pleasurable and unique listening experience. Vocally FRANKIE really makes it her own, shifting from the smooth Brit Pop vocal of Morrissey, to a more gravelly and dangerous tone.
The song is currently streaming on Spotify, which can be accessed here.