Jukebox Times is today sharing an exclusive piece of news about artist Advaith. The Sydney-based artist recently dropped a new single titled LOVE CODA. We got a special sneak peek (or shall we say sneak listen!) into the single and were blown away by the dynamic audacity of its structure. The single starts with sublime synth sounds and an intriguing vibe. After that, the vocals by Advaith take us on a splendid musical ride. The scintillating beats and melodic tones create an innovative jarring effect i.e. addictive and kind of keeps on lurking in the listeners' mind.
Advaith certainly enthralls us in LOVE CODA with his distinct sonic spectrum and riveting arrangement. The vocal nuances are raw yet deeply profound too. And therefore Jukebox Times highly recommends LOVE CODA which is now streaming on Spotify.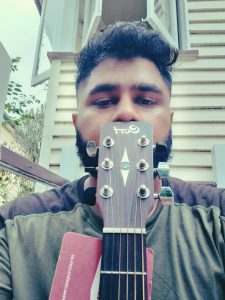 About the artist: Advaith is a singer/guitarist/songwriter based out of Sydney, Australia. Originally from India, His influences range from Carnatic to pop to progressive metal & is fond of artists known for creating an audio-visual experience rather than audio only. He is mostly self-taught. His latest single "LOVE CODA" talks about transactional human relationships and is set in a retro-outrun theme. The song was produced by Ingrid Oram at Ralph Street Studios Sydney.
Official Instagram: Advaith
YouTube | Apple Music | Amazon Music