Jukebox Times got a chance to interview Grammy Nominated Music Producer, Artist and Musician Uncle EJ aka Emmanuel Johnson. Known for his riveting albums like Uncle EJ, Hussain Thoughts and EP's like Love Tales and Christmas at Uncs, we got insights into his source of inspiration, his upcoming projects and much more!
Q. First of all, welcome! It is wonderful to have you on our platform. How are you doing?
Uncle EJ: Thanks for having me, I'm good how are you guys?
Q. Our team loved your latest EP Christmas at Uncs. Please share how did you come across the idea for this EP album?
Uncle EJ: Well, it was Christmas and I did the one the previous year dedicated to my daughter who passed a few weeks prior to Christmas so I wanted to follow up with a new one with fresh vibes and lyrics…
Q. What exactly is the creative process that you follow while making your music and especially the process that you followed while you were working on this EP album?
Uncle EJ: Honestly I just make sure my space is pure and genuine…  Energy has to be right or it's hard to work.. with the EP I wanted to capture a lot of the funk essence that I love and live for…
Q. Your music is quite realistic and it has a distinctness and vibrancy ingrained in it. How do you achieve that unique and marvelous sound?
Uncle EJ: I play several instruments, and just have a keen ear for different sounds and textures.. having a diverse ear for different genres of music I'm able to mash them all together and create… very rare honestly.
Q. Personally, what motivates you and what inspires you to make such amazing music?
Uncle EJ: My motivation streams from a pallet of things… my past but also my present and where I am now… that motivates me to get up every day and get to it.. my inspiration comes from literally everything… all I see and hear are sounds and art and it makes me want to create.
Q. Who has been a major influence in your life?
Uncle EJ: Anyone who has created good music honestly…  Denaun aka Mr. Porter being one… he challenges me without even knowing… and is just a host of my producer friends that are incredible.
Q. Please tell us what were you doing when you came to know that you have been nominated for a Grammy Award? How did you feel at that moment?
Uncle EJ: I was asleep lol… my phone was ringing off the hook and my brother called me yelling on the phone… after I heard I went back to sleep lol then woke up and it was a surreal feeling…!
Q. Any tips or advice for the young aspiring music producers?
Uncle EJ: Find your purpose and craft your sound!!! Don't be afraid to step outside of the norm and most of all invest in yourself…. Get of being socially awkward and go network… relationships are EVERYTHING…
Q. What lies ahead for you in the coming years? What next?
Uncle EJ: Whew, I've been knocking out of a ton of commercials lately and traveling with a country artist as well as still building my own personal brand placing records and working with my artist like Ju Luxury, Noah Watson just to name a couple…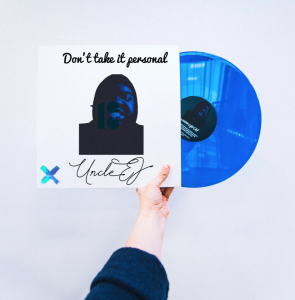 Q. Lastly, do you have any closing thoughts that you would like to share with the world and our readers?
Uncle EJ: Yeah just be looking to see more of me I'm the next 6 months to a year… it's gonna be a fun journey with lots of laughter for sure…
About the artist: Emmanuel Johnson better known as (Uncle EJ) born October 22, 1991, is a Grammy Nominated Music Producer, Artist and Musician from Detroit, MI. Uncle EJ has worked with artists such as Eric Roberson Denaun Royce Da 5'9″ Young Jeezy and many more. Uncle EJ also owns a Detroit-based Record label (Millennial Misfits Records).
Follow the artist on his official social media for more updates: