New Haven rock group The John Spignesi Band has teamed up with Max Creek guitarist and songwriter Scott Murawski for their seventh studio record.
Murawski, who also plays with Mike Gordon, agreed to take on the producer role for the project back in 2020. When COVID shut everything down, Spignesi began planning for the recording sessions.
We had COVID, and then we all got busy. It's just how life goes," Spignesi says. The 31 year old guitarist performs almost every weekend in various projects, with JSB being the main focus. "It's been such a great experience recording with Scott. He truly has great ideas and has helped me look at songwriting in a completely new light."
The band once again will be working with Matt Terribile of Ace Tone Productions. Terribile has produced nearly all JSB albums since their formation.
"I've been waiting for this one for a long time," says Terribile.  He's owned and operated Ace Tone Productions, LLC in Bethany for several years. "I think this one will be the band's best effort yet."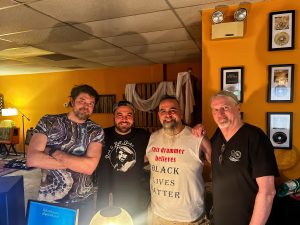 In addition to producing, Murawski will also play guitar and contribute vocals on the upcoming album. Additional musicians include John Mundy (trombone) and Michael Bafundo (trumpet) of West End Blend, respectively.
More information will be forthcoming on the seventh studio record for The John Spignesi Band.